NVIDIA and Intron Partner to Scale African Speech Recognition
Excited to announce our partnership with NVIDIA to advance speech recognition for African accents, especially in the clinical domain, a largely ignored problem. Doctors in developing countries see a disproportionately large number of patients daily but lack productivity-boosting tools. Intron Health helps speed up documentation by up to 7x using African clinical speech recognition supporting 200+ African accents, freeing up time to focus on patient care, reducing wait times, relieving clinician burnout, and accelerating EMR adoption. Overworked doctors need all the help they can get!
We're joining forces with NVIDIA to accelerate #ai adoption in Africa, kicking off with this #NeMo #speechrecognition #masterclass led by Wei Xiao and Fatima Tambajang in partnership with NVIDIA, Hugging Face, DSNai – Data Science Nigeria, Lanfrica, Masakhane, and Zindi.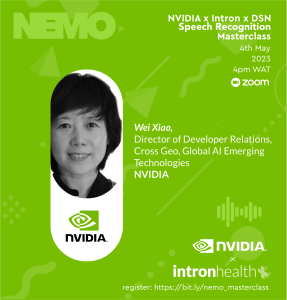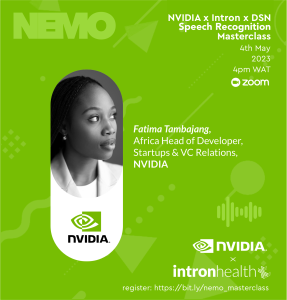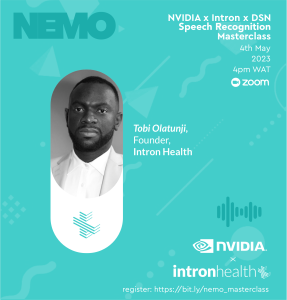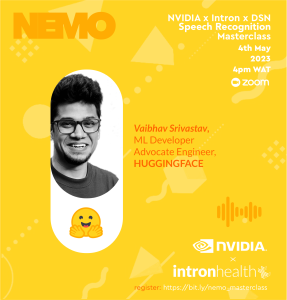 Take your #datascience skills to the next level. Join the NVIDIA #NeMo speech recognition masterclass this week. Learn to train your own speech-to-text models to reduce documentation time. Put your NeMo ASR superpowers to the test in the ongoing Intron Health AfriSpeech-200 Zindi ASR Challenge and compete for a $5000 prize, helping reduce burdensome documentation time for overworked clinicians in developing nations. Demo your fine-tuned models using Hugging Face Spaces with Free GPUs provided by Huggingface!
Thursday, May 4, 2023
4 pm WAT (GMT +1)
Register: https://bit.ly/nemo_masterclass
Compete: https://zindi.africa/competitions/intron-afrispeech-200-automatic-speech-recognition-challenge
This event is made possible by NVIDIA, Intron Health, Hugging Face, DSNai – Data Science Nigeria, Lanfrica, Zindi, and Masakhane